R1



Minimum amount of cartons 2

Price $ 27.50 (Per Carton)

R1 Minima



Minimum amount of cartons 2

Price $ 27.50 (Per Carton)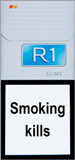 R1 Slims



Minimum amount of cartons 3

Price $ 31.60 (Per Carton)

R1 Ultra



Minimum amount of cartons 3

Price $ 29.40 (Per Carton)
R1 Cigarettes
R1 cigarettes is that tobacco product preferred by smokers of light cigarettes. R1 cigarette has a special style with an unusual type of flavor that makes them differ from the rest of the branded cigaretes. R I is very delicate in taste and has a rich flavor and that makes it peculiar.
The manufacturing company of R1 is located in Europe, selecting the best quality European tobacco. That is why the price and the quality remain superb as usual.R1 cigarettes are extremely demanded on the market.
R1 cigarettes is a brand produced by the German manufacturer since 1984.Today, R1's taste has conquered a strong position in Germany, Russia, the Ukraine, Poland and Greece.
The modern Slim Line variant is segment leader in Greece and very popular in Eastern Europe.